This weekend absolutely flew by!!
We (the Baylor University Wind Ensemble) left Greensboro, NC at 9am on Friday morning and got home around 5:30am on Saturday morning. Yep, you read that right-
all nighter on the bus.
Bring back high school memories, anyone?
Yuck.
*If you're curious as to why the Baylor University Wind Ensemble was on the all-day/all-night bus ride from NC to TX, you can read my announcement post
here
, the "in-route" update
here
, the Nashville update
here
, and eventually I'll get around to writing about the conclusion of the trip ;)
So, obvs on Saturday I slept from about 7am until 2pm....woke up, cleaned, laundry, repeat. Fun fun!
I know you wanted documentation of that glamorous huge ol' pile of laundry....4 loads worth to be exact.
Sunday really wasn't much different- I feel like I'm still trying to recover from the trip and the billion hour bus ride (
seriously
too old
for that....)
Quite honestly my weekend was NOT exciting, and for that I am thankful.
BUT THIS IS EXCITING! :)
Amber from
My Three Bittles
recently hit 1,000 followers (Go Amber!!) and decided to throw together this
pretty stinkin' massive giveaway
! I mean just check out the prizes >>
I hope you all had a great and more relaxing weekend than I did, and I leave you with this note from Amber!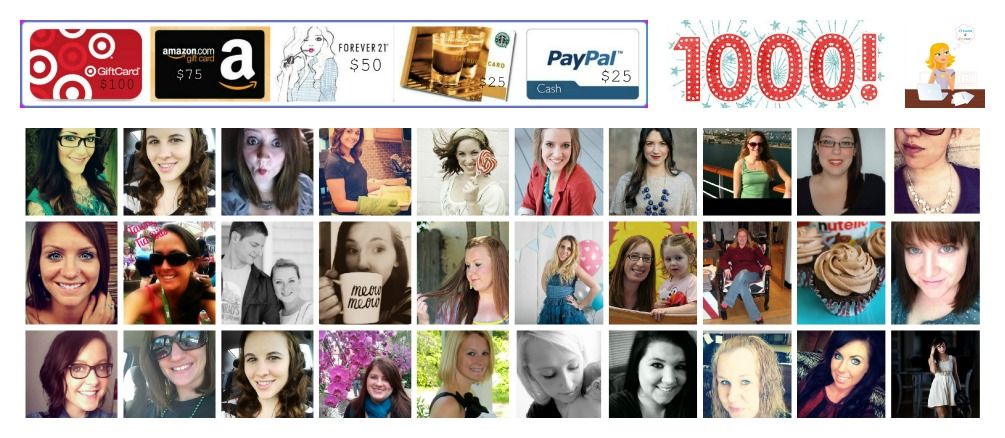 "My Three Bittles hit 1,000 followers a bit ago.I want to thank you all so much, SO much!And a special thanks to these lovely ladies for helping me celebrate!
$100 Target gift card.$75 Amazon gift card.$50 Forever 21 gift card.$25 Starbucks gift card.$25 Paypal cash.These lovely ladies.Bam!Need I say more?!"
a Rafflecopter giveaway
Now (this is Paige again)- if you are one of my lovely new GFC friends, please leave a comment so I can find you in return!!